Tuesday, July 1 (continued)

When we arrived in Vienna, we went on a walking tour right away. I was very tired and got lots of blisters, but I enjoyed the tour.
We saw and photographed lots of old buildings on the tour. I don't remember the names of most of them.
A building in Vienna
Closeup of the horses on that building

The Austrian National Library: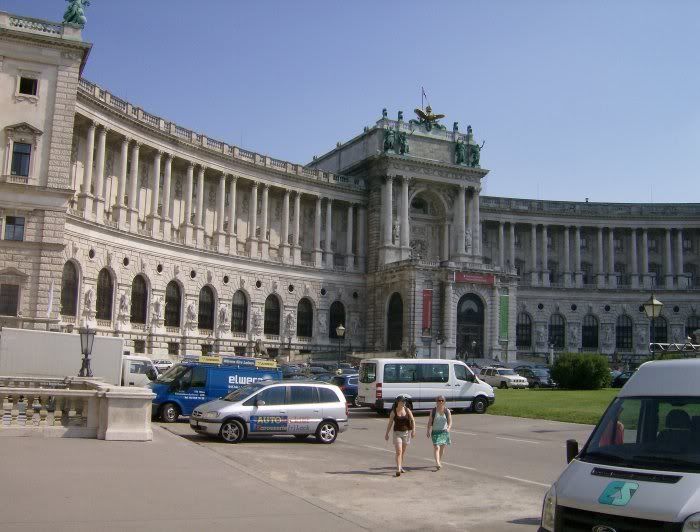 As we were walking around on the tour, we saw a bit of a crowd gathering. Some members of our group yelled, "Hey look! Streakers!" Sure enough, there was a group of people taking their clothes off as a part of some protest.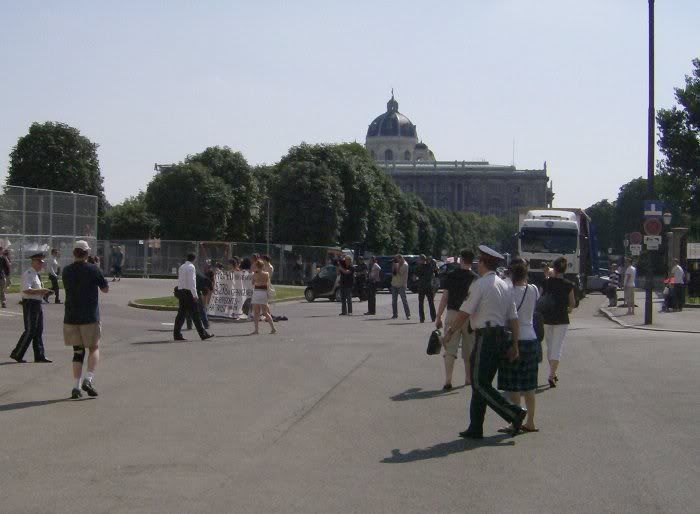 In this photo, you can see the streakers before they took off their clothes. Photobucket wouldn't let me post any of my more close-up photos that showed the streakers completely naked. ;)
As we were walking through Vienna, we saw a famous composer! Some orchestra members posed for a photo with him. We also saw St. Stephens Cathedral, and got to go inside it. It's one of the most impressive churches I've ever seen.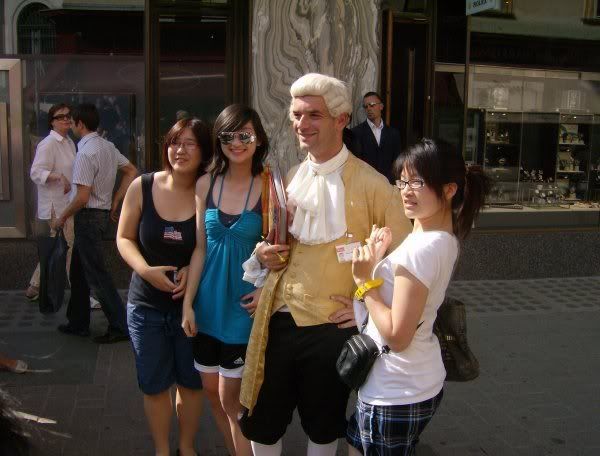 It's Mozart!
A statue in Vienna

The same statue, photographed from a different angle to show an awesome sunlight effect.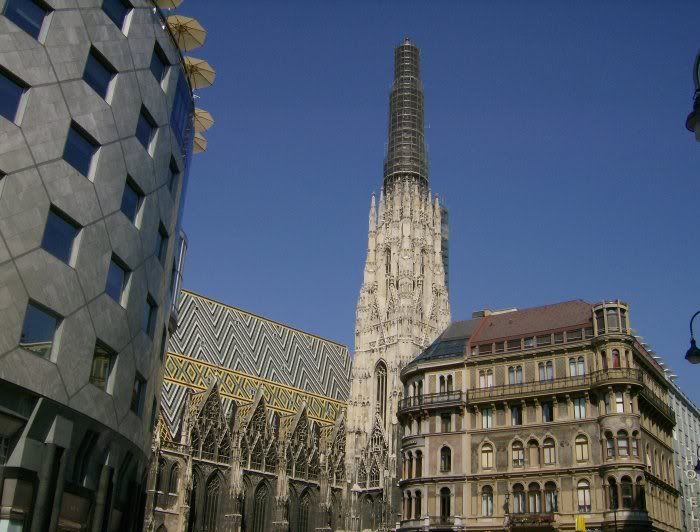 St. Stephen's Cathedral. I don't know what the round building on the left is.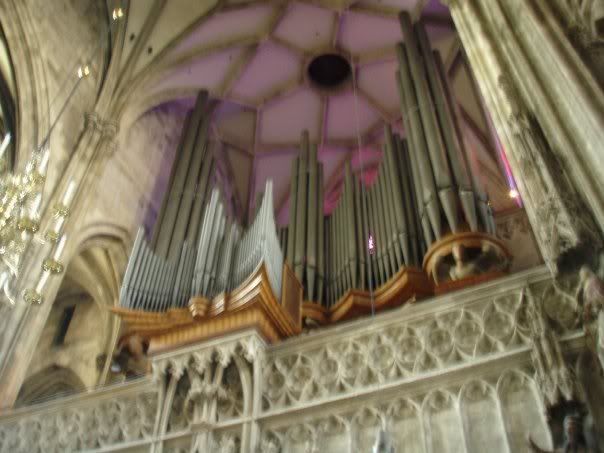 The organ inside the cathedral. My friend Jordan took this picture.
In the cathedral
The Mozarthaus in Vienna.
For supper that day, we went to a cafe called Einstein Cafe. It had many pictures of Einstein inside it. One of our orchestra members had a birthday that day, so she got a cake with a sparkler on it.
Some smart people outside the Einstein Cafe.

In the caf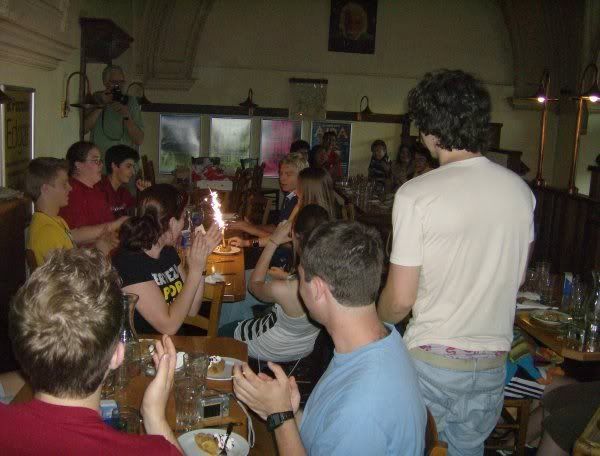 Happy birthday!
After supper, some people went downtown, but I stayed at the hotel because I was exhausted and had sore feet. I bought some potato chips at the hotel. For some weird reason, they were kept in a fridge. I shared the cold potato chips with some friends.
Wednesday, July 2

I woke up later than I was supposed to. We had a good breakfast in our rooms in the hotel. Our breakfast was hung in bags on our doorknobs in the morning! We got several things for breakfast, including croissants and kaiser rolls!
We rode our bus to Schoenbrunn Palace. I was excited to go there! I'd learned about that place in an art history class, and never dreamed I'd get to go there!
Me in front of Schoenbrunn Palace.
A Schoenbrunn Palace eagle.
We had a tour of Schoenbrunn palace, and saw lots of beautiful old rooms, paintings, and furniture. After the tour was over, I bought a hat at the gift shop. Then we played a concert outside in the back of the Palace. We played pieces like Radetzky March, and I think we played Wagner's Meistersinger prelude too, and some other pieces. During (and even after!) our concert, we were filmed and photographed by random tourists!
Outside, in back of Schoenbrunn Palace.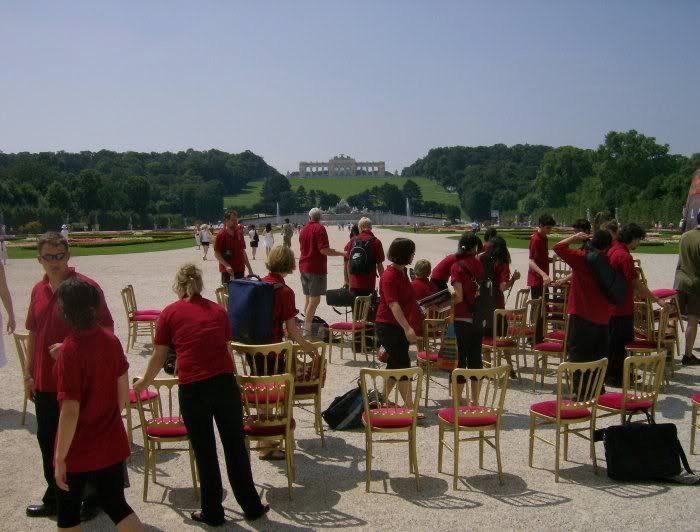 Setting up for our Palace concert.
Orchestra guys in back of the palace.

All of us, on the Schoenbrunn Palace stairs.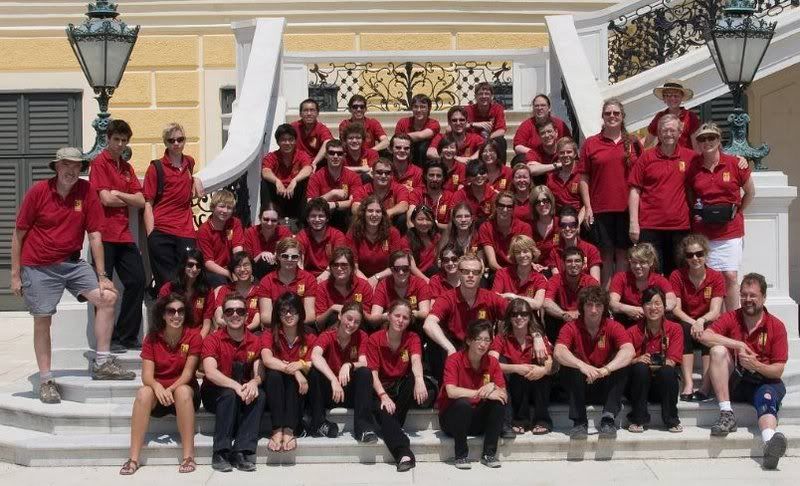 We went downtown to buy lunch wherever we wanted. Some of us bought food from a roadside stand. I bought a slice of cheese pizza there. It was amazing pizza! It was some of the best pizza I'd ever had! I'd go back to Vienna just for the pizza.
Unfortunately, my camera broke after lunch. I bought and used disposable cameras for the rest of the trip.
After lunch we went to the House of Music, which is a music museum. They had all sorts of interactive displays, games, and activities. Many of us tried out the game where you held a baton and conducted an orchestra! I also found a display where you could make music pieces out of everyday sounds. I made a music piece entirely out of farting noises. I bought postcards of Mahler, Schoenberg, Webern, and Shostakovich in the gift shop.
We had supper at a sort of buffet/cafeteria place. I didn't get a chance to try the wiener schnitzel, but those who tried it said it was good.
That night after supper, we went to a concert by the Vienna Mozart orchestra. It was in a famous concert hall that I forget the name of (Musikverein maybe?) It was a well-played concert, but it was mostly Mozart's best-known pieces, which I'm a little tired of.
When we got back to the hotel, I was really excited. The night before, an orchestra member had said he'd gone swimming in the Danube river! So this night, he was going to take a bunch of us down to the place he'd gone the previous night, so we could go swimming. It was so much fun!! It was definitely one of the highlights of the trip, and something I'll always remember.
One of my orchestra friends said I looked like a mermaid. :)
In the next entry, we go for rides on slides, I find an A&P store in a little German mountain village, we experience a bit of Steve Reich, and we pretend to be in a musical.