Friday, July 4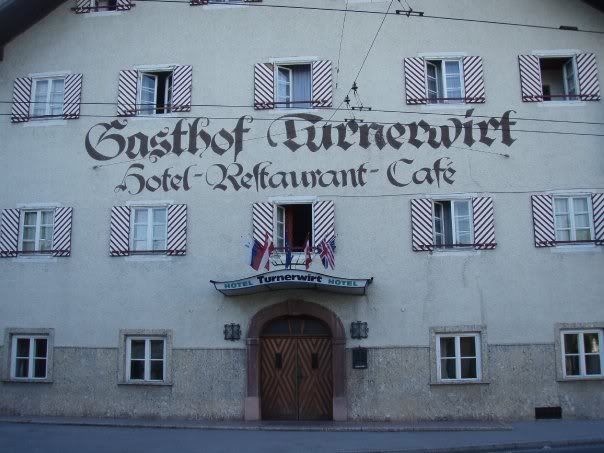 Our hotel in Salzburg. Photo by a friend.
We had breakfast at the hotel. After breakfast, we got into our bus for the Sound of Music Tour. We drove around in the mountains near Salzburg and saw many places where the Sound of Music was filmed. Some orchestra members sang songs from the movie and re-enacted movie scenes. We saw lots of beautiful mountains and lakes. We also passed by the Red Bull mansion.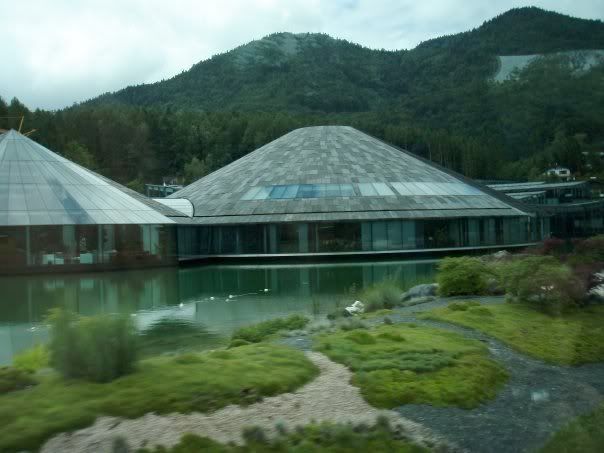 The guy who invented Red Bull lives here. (Photo by a friend)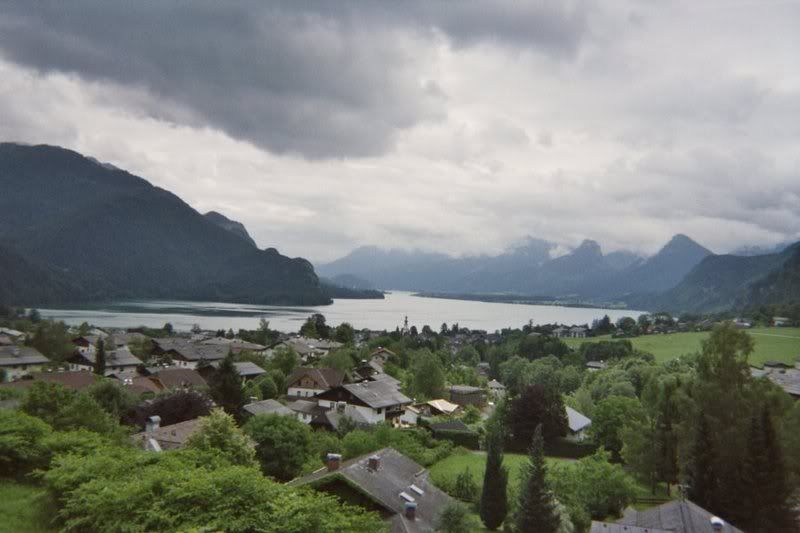 The Alps near Salzburg, on the tour.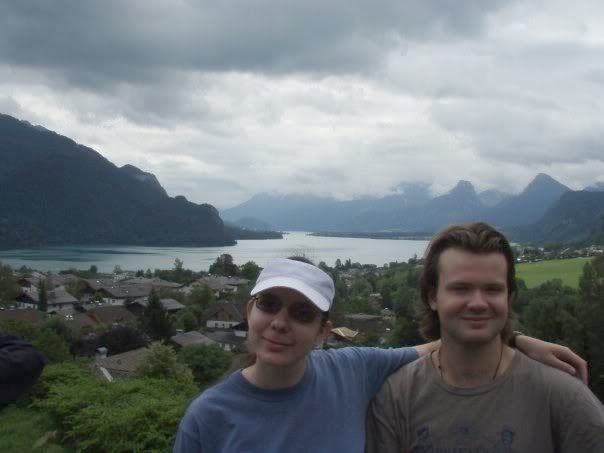 Me and Jordan
The Sound of Music was filmed near here.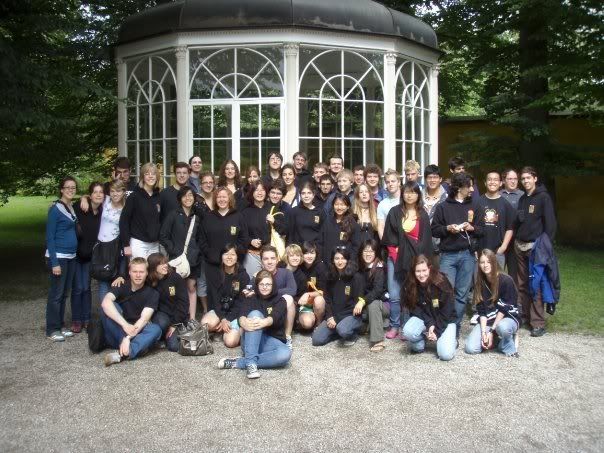 All of us, in front of the thingy that appeared in the Sound of Music film. (Photo by a friend)
We had lunch in the little town of Mondsee. I think the wedding in the film took place in the church there. We went inside the church, and then went wherever we wnated for lunch. I found a supermarket and bought some more Kaiser rolls. Maybe some Kinder chocolate too.
Mondsee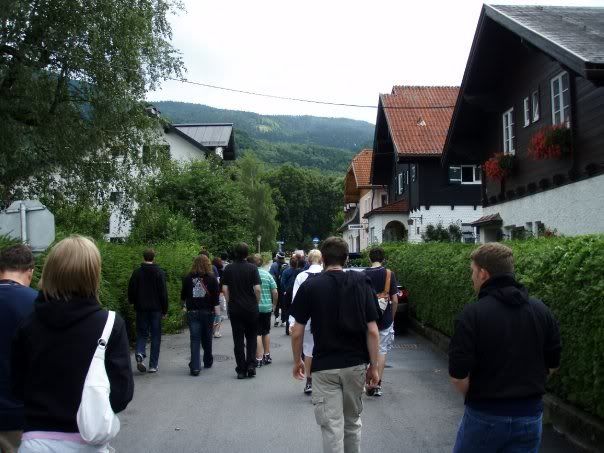 Heading toward the church at Mondsee
After lunch we had a rehearsal with everyone in the Cantus Festival. All the choirs gathered together to sing a song called "Song of Peace", and our orchestra played the orchestral accompaniment part. The orchestra part didn't require many musicians, so some orchestra members sang with the choirs instead. I was one of the singing people.
No orchestra member I talked to actually liked the "Song of Peace". The music was kind of dull and commonplace and cliched. An orchestra member described it as "Pachelbel's Canon meets the Beatles" (and when I told this to my conductor, he said, "But the Beatles are good!" He does have a point there.) And the lyrics were stupid and didn't always fit the music well. As well, it had the word "floading" in it (a typo for "flooding", I guess. But whenever I came across it when I was singing the song, I had to try hard not to laugh.) Everyone in the orchestra enjoyed making fun of the song. After rehearsal, we were standing outside and singing the song and making fun of it. Even though we were just joking around, I was grateful for this impromptu chance to rehearse the song. :P
We went back to the hotel. In the hotel room I was in, our mirror broke. But it wasn't anyone's fault, so we decided that the mirror had committed suicide and that nobody was going to get bad luck. We had dinner at the hotel. Some musicians tried to play tunes by hitting the dinner glasses.
Then we went out to perform in the big concert that night. Each group performed some pieces on their own (I think we played some Smetana and other things), and then we all got together to play and sing the Song of Peace. They were selling chocolate, so I bought some Alps chocolate. Afterwards, we went to a cafe for dessert. Most people got ice cream. I got beer. Then we went back to the hotel. I fooled around with some friends in my hotel room for a while before going to bed.
Saturday, July 5
After breakfast, we went to Salzburg Cathedral. Mozart used to play the organ there. We played Handel's Hallelujah Chorus in a Mass service, and some choirs sang songs. The acoustics were unbelievable. The echo in that church is the longest echo I ever heard. I swear, it lasted a full five seconds!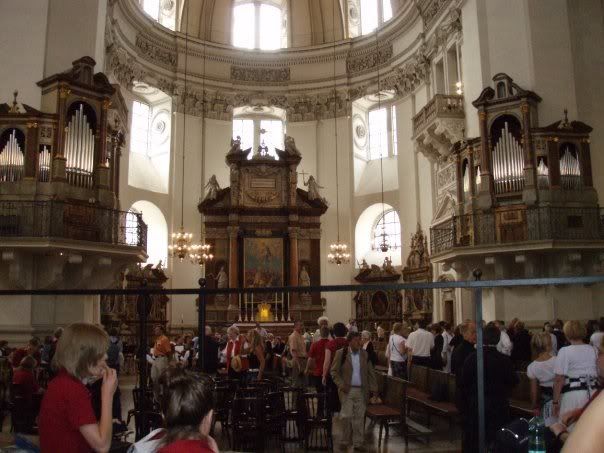 In Salzburg cathedral. (Photos by friends)
We had an amazing lunch (kaiser roll sandwiches!) that had been packed for us by our hotel, and then we performed in a concert at Mirabell Gardens, where some more of the Sound of Music was filmed. We weren't originally planning to play "Jumba Jambala", the piece written by our conductor, but the orchestra insisted, so we did. :) I play maracas in that piece.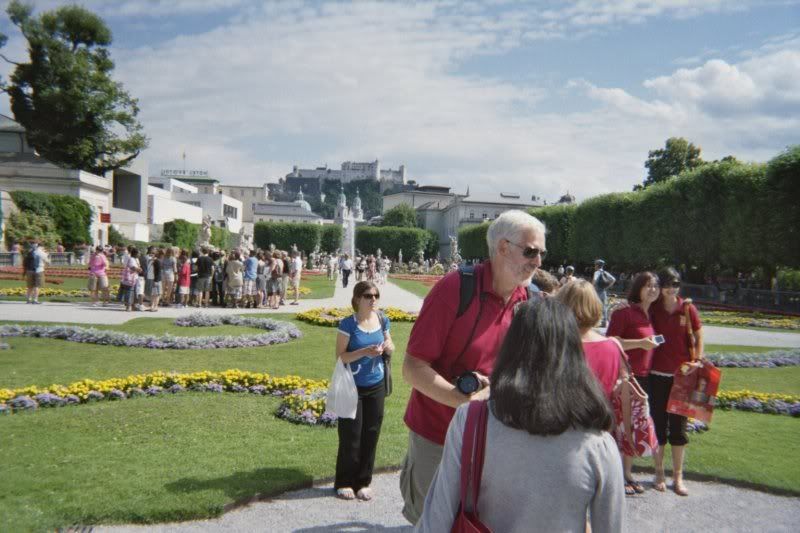 Mirabell Gardens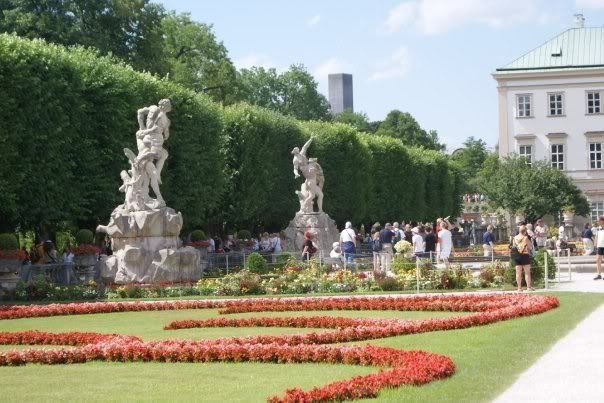 Then we had a bit of free time, then we had a walking tour. My feet hurt because I was still wearing my concert shoes. On the upside, I saw a cute cat. A friend got a photo of me petting the cat. After the tour, a bunch of us saw a busker playing Vivaldi on musical wine glasses!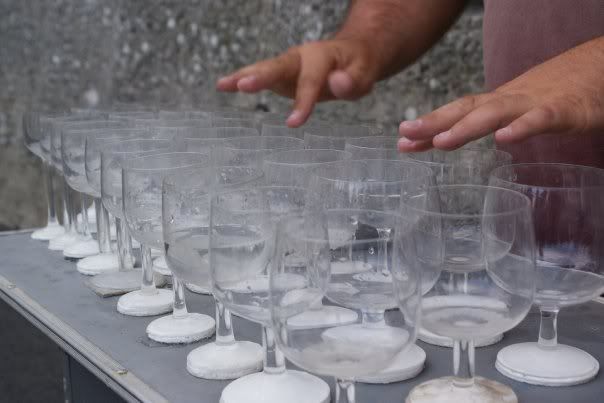 Glass playing. (Photo by a friend)
That night, we had a Cantus Festival dinner party. They had a little Austrian band playing various instruments, one of which was a cimbasso! I was amazed, and so happy! The dinner was great. During the dinner, Harry, our trumpet player, was making up songs about mushrooms, involving the word "floading", and I laughed so much I almost choked! After the dinner, there was dancing. I didn't want to dance at first, but one of the trip leaders got me into it. Once or twice, a conga line formed. We all had great fun.
The band. (photo by a friend)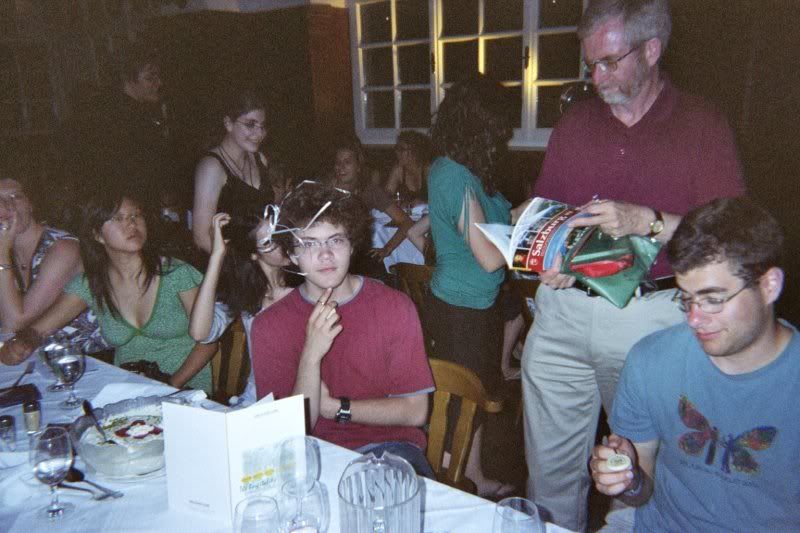 At the dinner party.
What a great way to spend our last night in Salzburg!
The next entry contains palm trees, gelato, leather, and a certain part of Michelangelo's David's anatomy.