Before my travel diaries about Italy.....you can see a video of my orchestra (and other groups at the Salzburg festival) here: http://www.youtube.com/watch?v=lVl4js5lj6I . The infamous Song of Peace comes in at 6:40 or so in the video. Enjoy!
Sunday July 6
It was the day of the long bus ride. The all-day bus ride from Austria to Italy.
We rode through the Alps. I played a funny paper game with friends. It was hilarious! We stopped off at a small road stop and I saw a lizard.
We eventually reached Italy. We stopped off at a restaurant place for lunch. I had some really good chicken. I think I may have bought some Kinder chocolate there too. It was so hot outside! Luckily, our bus was air-conditioned.
On the way to our hotel in Italy, we played a game in the bus. Our travel guide (the one we had for the whole trip) organized it. It was a trivia game about Italy. I didn't know a lot about Italy though.
We arrived in Montecatini in the late afternoon. My goodness, what a beautiful city! It was quite unlike Austria.
A friend took this photo of Montecatini from the bus window.
Our hotel (named "Tuscany Inn") was nice, and had some balconies. The view from the balcony was spectacular. As I was out on my balcony, I heard an orchestra member playing his trumpet from his balcony.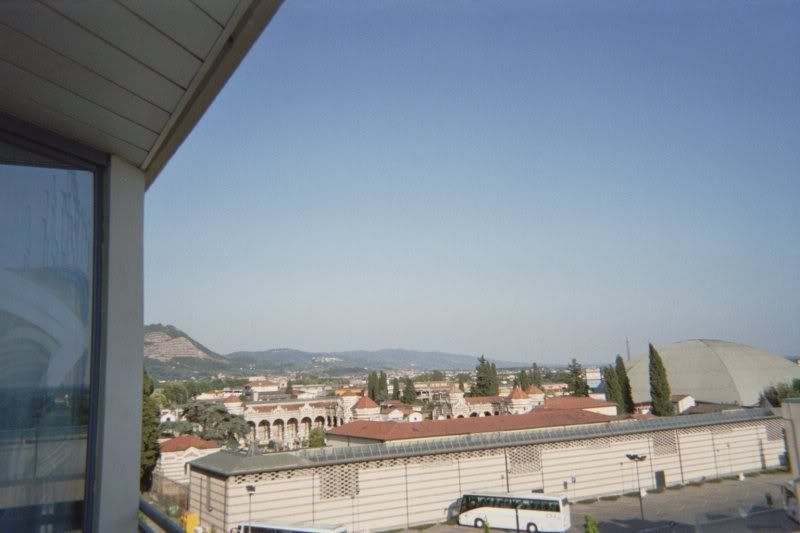 View from my balcony

A friend photographed this view from his balcony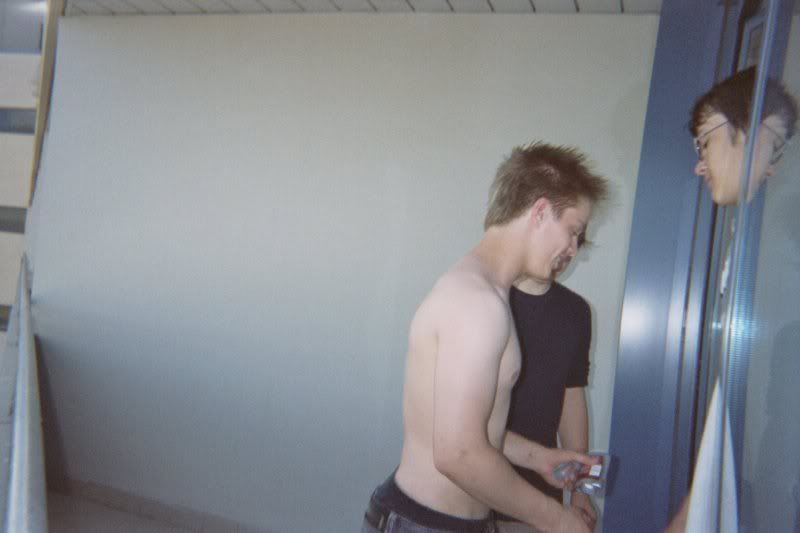 I photographed my friends on their balcony, from my balcony.
After we got settled into our rooms, we had dinner in the dining room at the hotel. After dinner, our travel guide took us out for gelato. I saw one of the most beautiful sunsets I've ever seen. I also saw several palm trees in the town.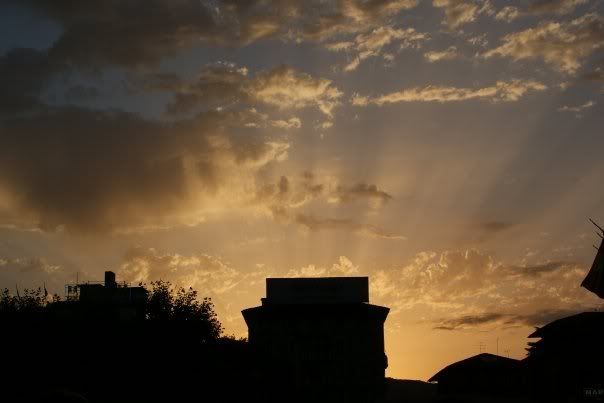 Sunset in Montecatini. (Photo by a friend)
Then some of us went with the travel guide to the funicular station to take the funicular (cable car) into the higher part of the town (Montecatini Alto) that was on a hill. We had a spectacular view of the nighttime city lights in Montecatini and surrounding areas. We wandered around the village there. We saw some people sculptures made from plants, and we saw a cat. I think the coolest thing in Montecatini Alto was the castle courtyard. Some of us came across a building that looked like a castle. An opening in the wall led to some stairs, which led to a big unlit courtyard. The view of the stard from there was amazing. I ran out of the courtyard, found some of my friends, and told them to go into the courtyard. I ran back into the courtyard before them, and when they arrived there, I jumped out and shouted "Boo!" and scared them!
Back in the hotel that night, I was telling my roommates that I'd had a silly idea. I said that it was so warm outside, I wanted to sleep on the balcony. So, my roommates and another orchestra member helped me move my mattress outside to the balcony! They were worried about me getting cold, but I didn't get cold once all night.
Monday, July 7
We spent most of the day in Florence. It took about an hour to drive there in the bus.
In the morning, we had a tour of Florence. We got to see the Duomo, which I'd learned about in art class! We also went inside the church where Rossini and other famous Italians were buried. We saw lots of sculptures, including a copy of Michelangelo's David and some lions that an orchestra member thought were scary.
The Tevere river in Florence. Photo by a friend.
We could go wherever we wanted for lunch. A bunch of us went to a pizza restaurant that our travel guide recommended. The pizza was great! Some people had pizza with pine nuts on it, but I stuck to the salami pizza. After lunch, we went shopping and wandered around. Most of the museums were closed on Mondays, unfortunately. A lot of people bought leather things. We saw some screevers (pavement artists.) I bought some postcards and bookmarks. A friend made up a song about pay toilets in Italy. All the tourist shops and stands had numerous things with Michelangelo's David's penis on them -- bookmarks, boxer shorts, magnets, etc.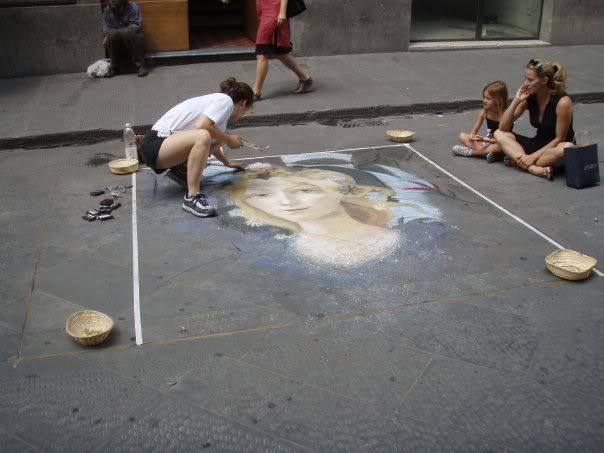 A screever (pavement artist). Photo by a friend.
Later on that afternoon we had a rehearsal in a church. I was so tired that I kept falling asleep during rehearsal. After rehearsal we had dinner in a restaurant, and after dinner we played a concert (which was part of a youth orchestra festival) in the same church. It was an extrememly successful concert and the audience loved us and we played two encores, but I was extremely tired and had an incredibly difficult time staying awake for the whole thing. I fell asleep in the bus on the way back to Montecatini. So did a lot of people.
Tuesday, July 8
We visited two cities on this day, Lucca and Pisa.
Lucca (where Puccini was born) is a charming town with a wall that goes all the way around the city. The wall has a road on it that you can walk or ride a bike on.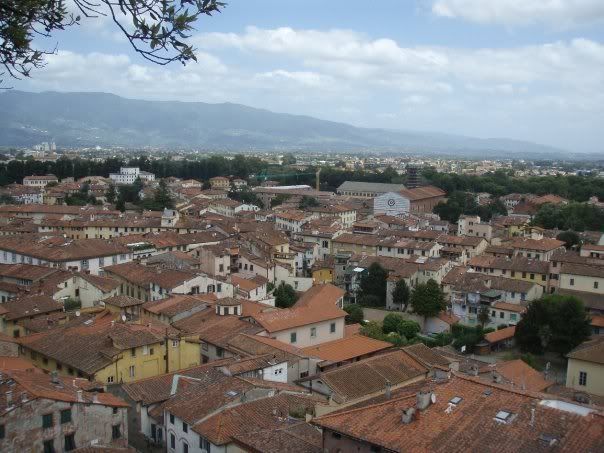 Lucca seen from the wall. Photo by a friend.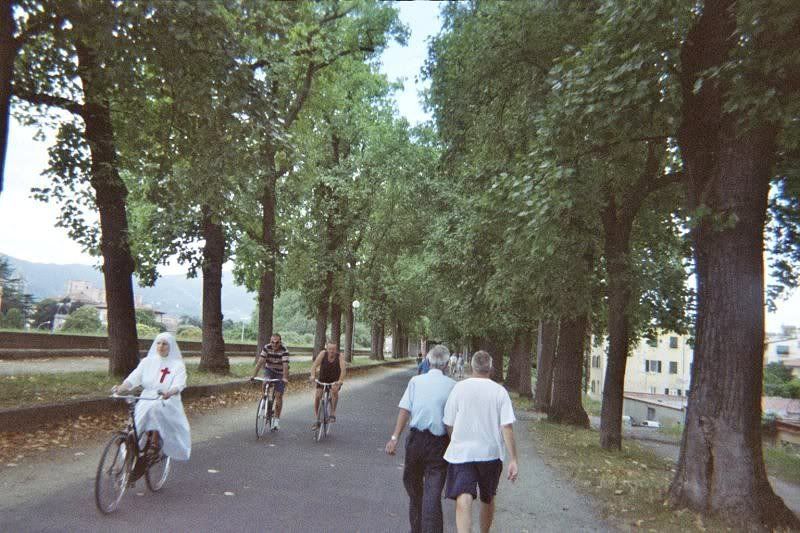 The wall around Lucca. (my own photo)
When we arrived there, many of us decided to rent bicycles. I was a bit nervous riding a bike, since it had been so long since the last time I'd ridden one. But Davide, the guy from the youth orchestra festival who was staying with my orchestra for our time in Tuscany, encouraged me. I lost the rest of the group of orchestra members that I'd started out with, because I was so slow, but I stayed with Davide. I had a great time. We stopped off at a pizza restaurant for lunch, and talked for a while. It turned out that he used to go to a university in Montreal.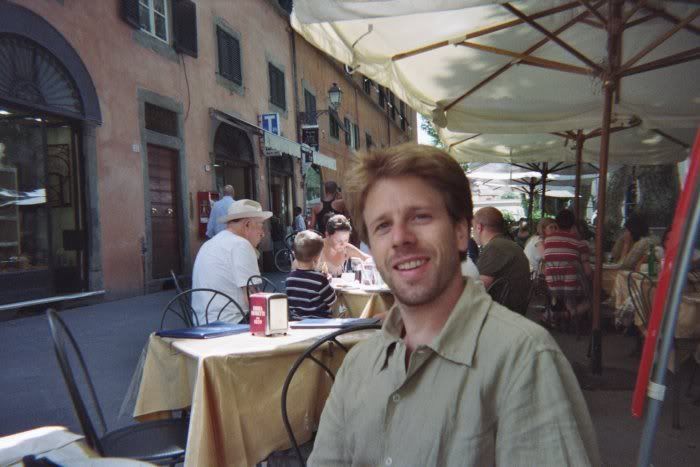 Davide at the pizza place. My mom says he's good-looking :)
After that, we all went in the bus to Pisa. It was rather nice, but a very touristy place. I bought some souvenirs and took some pictures.
Building in Pisa.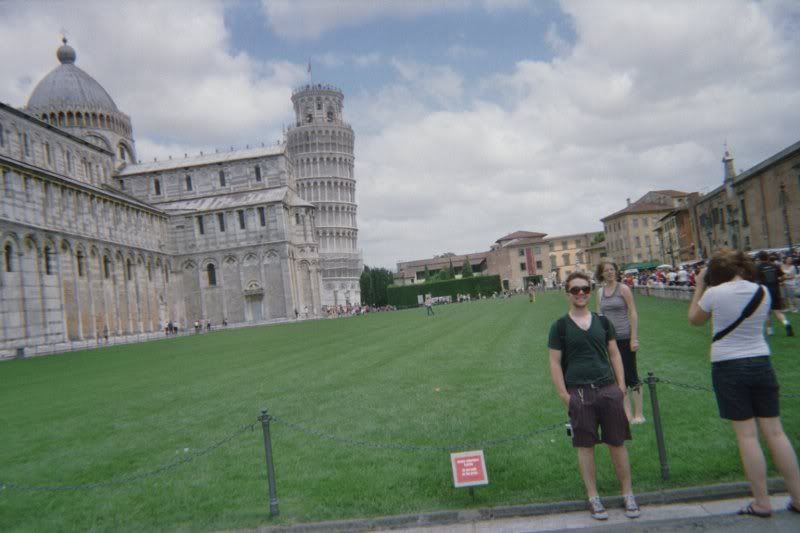 Orchestra members doing touristy things.
After our short stay in Pisa, we rode the bus back to the Tuscany Inn. After supper, we walked to the place where we'd play in that night's concert, a hotel/spa thing I think, called Terme Tettuccio. I have never played in a more fascinating and beautiful concert place! I'll post some photos of it here. (We played in a sort-of outdoor place/courtyard , so it was a sort-of outdoor concert, I guess.)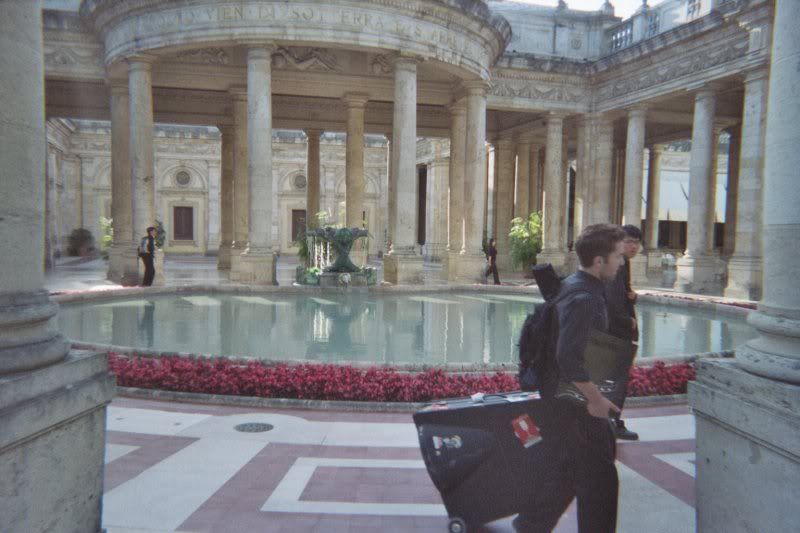 (photo by a friend)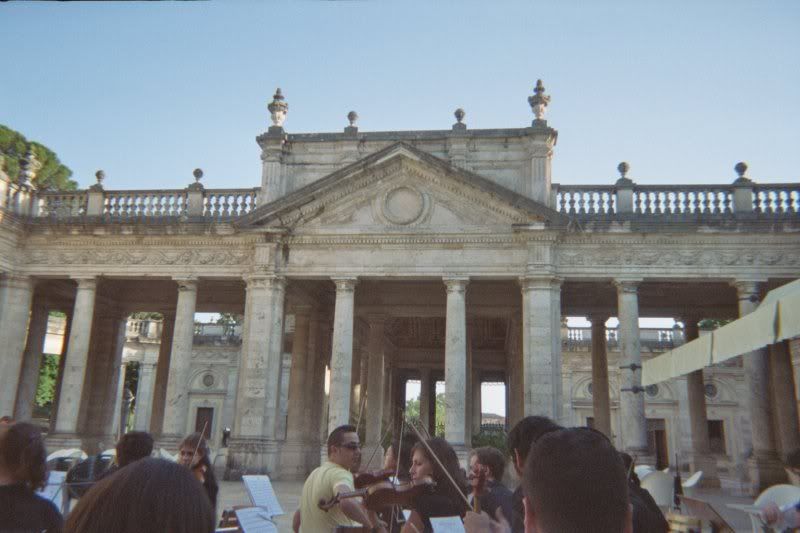 We played a concert there with a youth orchestra from Spain. We each played some music on our own, and then we teamed up and played some pieces together. After the concert, the Spanish orchestra musicians had a crazy jam session where they played Spanish music, and people danced. Everyone was excited, and everyone really enjoyed it!
People dancing to the Spanish orchestra's music session. Photo by a friend.
We went back to the hotel, and then a bunch of us walked to a disco. I danced there for a while, but I was very tired. Fun times!
In the next entry, we enter a land of ancient ruins, modern-day tourists, pines, wines, and fascination.